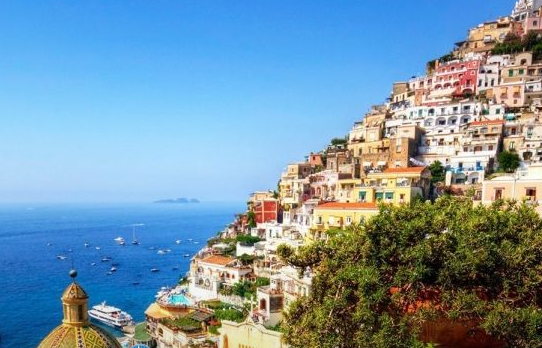 6  – 15 October 2018
Join Wine Diva Deb on the Azamara Journey for a touch of la dolce vita on this Italian intensive voyage that will have you exclaiming, "Fantastico!" in every port.
BOOK A CLUB VERANDA STATEROOM AT CLUB INTERIOR PRICES – Promotion ends Nov 30, 2017 – Details below:
Your journey begins in Rome, where such iconic sites as the Vatican City, Colosseum, Piazza Navona, Spanish Steps, Roman Forum, and Trevi Fountain await.
Sail next to Livorno, the gateway to the magnificent art and architecture of Florence and Pisa's famous leaning tower. Then it's off to breathtaking Portofino, with its castle, abbey, medieval fortress, and harbor front shops (and the yachts of Europe's wealthiest who shop there). On Elba, where Napoleon was exiled, you'll wonder why he ever wanted to leave. As you're pondering that, enjoy a wine tasting at the "Enoteca" inside the Medici Fortress.
From Elba, it's on to sunny Sorrento—home of limoncello and the gateway to the isle of Capri—followed by amazing Amalfi, where olive groves rise from the sea, boats bob in the harbor, and inviting plazas beg you to take a seat and stay awhile.
And of course, no immersive voyage to Italy would be complete without experiencing the spectacular islands of Sicily and Sardinia. Finally, rest and re-energize with a relaxing day at sea before your final port of call: Barcelona!

Voyage Details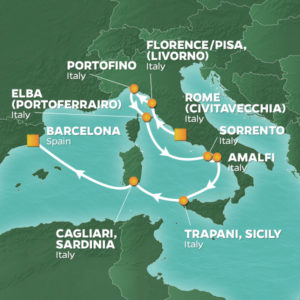 | | | | | |
| --- | --- | --- | --- | --- |
| Date | Port/City | Activity | Arrival | Depart |
| Sat 6 Oct | Civitavecchia (Rome), Italy | Embark | | 6:00pm |
| Sun 7 Oct | Livorno (Florence & Pisa), Italy | Docked |  7:30am |  11:00pm |
| Mon 8 Oct | Portofino, Italy | Tendered |  8:00am |  10:00pm |
| Tue 9 Oct | Portoferraio, Elba, Italy | Docked |  8:00am | 2:00pm |
| Wed 10 Oct | Sorrento, Italy | Tendered |  8:00am |  9:00pm |
| Thu 11 Oct | Amalfi, Italy | Tendered |  7:30am |  7:00pm |
| Fri 12 Oct | Trapani, Sicily, Italy | Docked |  8:30am |  6:00pm |
| Sat 13 Oct | Cagliari, Sardinia, Italy | Docked |  8:00am |  8:00pm |
| Sun 14 Oct | | Cruising | | |
| Mon 15 Oct | Barcelona, Spain | Debark | 7:00am | |

Port Details
Civitavecchia (Rome), Italy
 
Rome has something special to offer to all visitors, no matter their interests and tastes. Whether you daydream about fighting with gladiators in the Coliseum, debating with togaed senators in the Forum, tossing a coin in a fabled fountain, or being awestruck by the magnificence of St. Peter's Basilica and Michelangelo's masterpieces, Rome seems to live up to its sobriquet as the Eternal City.

When you need sustenance, today's Rome will provide delizioso pasta e vino. Or perhaps you draw strength from a little retail therapy—the Italians are also renowned for their sense of style.
Livorno (Florence & Pisa), Italy
 
Ah, Florence—sublime birthplace of the Renaissance, its historic center full to bursting with elegant squares, imposing palaces, magnificent churches, and museums with such an abundance of riches it could make an art lover weep for joy.

The list of illustrious names connected with this city is mind-boggling: Botticelli, Dante, Da Vinci, Michelangelo, Galileo. Other colorful and fascinating characters were of dubious reputation: Machiavelli, and the religious extremist Savonarola, with his bonfire of the vanities. For many years the city was ruled by the powerful Medici family, patrons of the arts and bankers to the papacy, whose line included six kings and two popes.
Portofino, Italy
 
Picture a tiny town of pastel houses lining the shore of a small harbor full of sleek yachts, crowned by a castle and backed by verdant hills dotted with villas. Throw in charming waterside restaurants specializing in seafood, and a national park with miles of hiking trails among chestnut and olive groves, where you can work off the pasta that in Italy is just the first course, between the antipasto and the main.

Now you know why this quaint little fishing village became a playground of the rich and famous, and why you should consider joining them.
Portoferraio, Elba, Italy
 
Napoleon was once exiled to the island of Elba along with an escort of 1,000 men, household staff, and the insulting title of Emperor of Elba. What a horrible punishment, right?

But thanks to Napoleon's little time-out here, the island enjoyed a golden age in the 1800s, when it was recognized as a prime location for the iron mills that brought prosperity to the area. You can learn all about the island's history at the Archaeological Civic Museum. (And you can even embark on a Cruise Global, Connect LocalSM shore excursion of Elba that stops at Villa San Martino, the very residence where Napoleon spent his 10 miserable months of exile.)

Climb to the top of Medici Fortress, which was built in 1474, and you'll be rewarded with sweeping views of the sea and the town below. Or take an open cable car to the peak of Mount Capanne for even more breathtaking views of the entire island, the Tuscan Archipelago, and the Mediterranean Sea. You can also enjoy performances in Vigilanti Theatre, an ancient church converted into a theatre by Napoleon's sister Paolina Bonaparte.

One thing is for sure: When you arrive in Portoferraio, you won't understand why Napoleon ever wanted to leave.
Sorrento, Italy
 
With its many pedestrian-only streets, Sorrento is a lovely city to explore on foot, but there's no way around it: If you really want to see Sorrento, you're going to have travel vertically. Most of the town is set up on the cliffs, so to get to the top, you can hop on a mini-bus, take the lift, or go on a short but steep hike.

Love to eat? You'll find the dining experience here second-to-none, where lemon is the star. It's in everything: risotto, olive oil, gelato, and, of course, limoncello. (There's no chance you'll be getting scurvy on this trip!) But if your mouth gets tired of puckering up, enjoy a dinner of Gnocchi alla Sorrentina—pillowy potato dumplings baked in a cheesy tomato sauce. Italian comfort food at its finest.

Looking out from Sorrento, in the Gulf of Naples, is the isle of Capri. Well known for its sparkling Blue Grotto, it's the playground of the rich and famous, and easily reached via a short hydrofoil.

The island is divided into two main parts, Capri and Anacapri. Capri is full of Italian luxury, with designer stores and five-star hotels lining the streets, while Anacapri is slightly more down-to-earth. Take a relaxing chair lift ride to the very top of the island, as the views are jaw-droppingly gorgeous.
Amalfi, Italy
 
There's a reason they named one of the most stunning coastlines in the world after this town: "La Vita e Bella" in Amalfi! It's also one of the largest towns in the region, so take some time to explore it. Rub shoulders with the Italian elite as you walk the pedestrian streets, ducking into shops and galleries. Drop into a bar and order the drink the region is best known for: limoncello. Make sure when you get it, that its been chilled. Limoncello, like revenge, is best served cold.

Amalfi extends down to the water, and its beaches are always popular with locals and visitors alike. (The Azamara pro-tip: Bring a pair of water shoes if you plan on spending any amount of time down at the lidos. While picturesque, the beaches are rocky, not sandy.)

A trip to Amalfi isn't complete without hitting the road in a car (ideally a convertible, of course!). We recommend taking in the views from the passenger seats—leave the winding, narrow cliff-side driving to the professionals. Whether you head up towards Positano and Sorrento, or down to Salerno, it will without a doubt be one of the most amazing rides of your life.
Trapani, Sicily, Italy
 
Few reminders still exist of Trapani's ancient history, but from Phoenician days it was a trading port, well positioned for commerce with Africa, Naples, and the western Mediterranean. The Middle Ages is the era most evident in its old town, now a pedestrian zone. Aging palaces, some imposing and others in various stages of decay, cluster along a peninsula stretching into the bay.

Worthy of note is the ominously named Chiesa del Purgatorio, home to wooden statues known as Misteri, that are paraded through the streets on Good Friday. Further out are saltpans, and plains punctuated by medieval windmills, home to some 170 species of birds.
Cagliari, Sardinia, Italy
 
You're in luck—we happen to think the best way to arrive in Cagliari is by sea. (Not that we're biased or anything!) This way you get to witness to full specter of this colorful city rising haphazardly from the sea, cresting with a rocky centerpiece better known as Il Castello. The capital of Sardinia, Cagliari boats over 25 centuries of history to explore in the form of Roman ruins, museums, churches, and numerous galleries.

Wander the streets to catch glimpses of yellow-tinged buildings juxtaposed with an impossibly blue sky. Or head to Poetto, the main beach. Spanning nearly five miles along the city's coastline, we suggest splurging on an umbrella and lounge chair which will offers the perfect vantage point to contemplate the alluring turquoise water. But as enjoyable as Cagliari is in the daylight, once the sun starts to set you'll want to find yourself in the heart of Cagliari's medieval old town, Il Castello. Gaze over the city below and the ocean beyond and watch Mother Nature put on her own version of a light show as the fading light casts shadows on the landscape below.
Barcelona, Spain
 
Dynamic Barcelona is all about architecture, from the magnificent medieval buildings of the Gothic Quarter to the Modernist movement typified by the work of Antoni Gaudi. Though his materials were stone and metal, his forms were organic, awash in curves, swirls, and colors. His masterpiece is the amazing Church of the Sagrada Familia, colossal and as yet unfinished, though construction began in 1882.

A contemporary contribution to the scene is Ricardo Bofill's post modernist National Theater of Catalonia, an imaginative combination of classical and modern design, with a greenhouse-like lobby.
On Board Inclusions

The services of a Concierge Host (Wine Diva Deb) to assist you throughout your journey
An invitation to a Private Cocktail Reception to meet like-minded VIPs
An Exclusive Shore Event to truly connect to the local culture
An AzAmazing EveningSM event (on most voyages)
Select standard spirits, and international selection of beers and wines throughout the voyage
Gratuities (dining, bar and housekeeping)
Shuttles to/from port communities, where available
Destination-influenced entertainment & enrichment
Bottled Water, Sodas and specialty Coffee & Teas
Concierge Service
Self-Service Laundry
All gourmet meals
Casino
Aqua Spa and Fitness center
Piano and Wine bar, and Live Entertainment
For Suite Guests
All standard amenities plus:
English butler service
235 complimentary Internet minutes
One free bag of laundry service per suite, each seven days
Complimentary dining in specialty restaurants
Afternoon tea service in suite
Guests in Club World Owner's and Club Ocean suites may choose a complimentary Insider AccessSM or Nights in Cool PlacesSM excursion
Pricing Details* (US$)
BOOK A CLUB VERANDA STATEROOM AT CLUB INTERIOR PRICES – Promo ends 11/30/17
*Airfare not included in prices listed
Interior
From $3,318/person
 
Balcony
From $3,318/person

Double Upgrade

 
Oceanview
From $7,601 for 2 guests
 Suite
From $12,901 for 2 guests
To Reserve your space
Send email to: winedivadeb@yahoo.com or call Wine Diva Deb on 206-617-6160.
A deposit of $1,100/cabin or $2,220/Suite is required.
All reservations based on double occupancy.  Travel Insurance highly recommended as well as Personal & Medical Insurance. All prices quoted in US$
Azamara Club Cruises reserves the right to impose a fuel supplement on all guests if the price of West Texas Intermediate fuel exceeds US$65 per barrel.