4  – 18 September 2019
Explore the culture, history, and beauty of Japan on a two-week voyage that begins in the metropolis of Tokyo before circumnavigating the entire country.
From Tokyo, you'll spend a day at sea before arriving in beautiful Hokadate. During your stay, you can spend time enjoying the company of wildlife at the Hakodate City Tropical Botanical Garden. Before you leave, be sure to snap a photo of Mount Hakodate, the vast 334 meter-high mountain that towers above the city.
Next, your voyage will take you to Akita, home of the UNESCO World Heritage Site of the Shirakami-Sanchi Mountains. Then, it's off to Kanazawa and Sakaiminato to explore traditional tea houses and take a walk down Shigeru Mizuki Road.
After an evening at sea, you'll arrive in Busan, South Korea. In this bustling city, you'll have the opportunity to climb Busan Tower for a picturesque view of the surrounding area. From here, you'll visit Nagasaki, Kagoshima, and Kochi, where you can visit volcanic hot springs, Kōchi Castle, and Huis Ten Bosch—a theme park modeled after a Dutch city.
Your voyage will then bring you to Kobe for an overnight stay. While exploring Kobe, tour the sake breweries in the Nada district, walk through the Sorakuen Japanese landscape garden, and do some shopping at Kobe Harborland. When the sun goes down, take the Shin-Kobe Ropeway up the southern slope of the Rokko mountains for a stunning nighttime view of the city.
After an overnight in Kobe, you'll journey into Suruga Bay to visit Shimizu and glimpse Japan's most iconic landmark—Mount Fuji. In Shimizu, you'll find Miho-no-Matsubara—a beautiful park with four miles of pine groves along the seashore. Feeling relaxed and reenergized, your journey will conclude with an overnight in Tokyo, having gained a lifetime of experiences in the span of two incredible weeks.
Voyage Details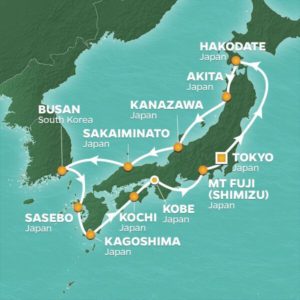 | | | | | |
| --- | --- | --- | --- | --- |
| Date | Port/City | Activity | Arrival | Depart |
| Wed 4 | Tokyo, Japan | Embark | | 5:00pm |
| Thu 5 | At Sea | Cruising | | |
| Fri 6 | Hakodate, Japan | Docked |  8:00am |  8:00pm |
| Sat 7 | Akita, Japan | Docked |  8:00am | 2:00pm |
| Sun 8 | Kanazawa, Japan | Docked |  9:00am |  6:00pm |
| Mon 9 | Sakaiminato, Japan | Docked |  8:00am |  5:30pm |
| Tue 10 | Busan, South Korea | Docked | 9:00am |  8:00pm |
| Wed 11 | Sasebo, Japan | Docked |  8:00am |  5:00pm |
| Thu 12 | Kagoshima, Japan | Docked | 8:00am | 5:00pm |
| Fri 13 | Kōchi, Japan | Docked |  1:00pm |  8:00pm |
| Sat 14 | Kobe, Japan | Docked |  8:00am | |
| Sun 15 | Kobe, Japan | Docked | |  2:00pm |
| Mon 16 |  Shimizu, Japan | Docked |  10:00am |  7:00pm |
| Tue 17 | Tokyo, Japan | Docked |  8:00am | |
| Wed 18 | Tokyo, Japan | Debark | | |

Port Details
Tokyo, Japan
 
It's hard to imagine Tokyo as a tiny fishing village named Edo. Tokyo is now the largest metropolitan area in the world, an exciting city with a seemingly unlimited choice of shopping, restaurants, museums, temples, and gardens to visit.

Start with the live tuna auctions at the Tsukiji Fish Market, the largest and busiest fish market in the world, then head to Tsukiji's electronic equivalent, Akihabara Electric Town (Denki-Gai), for the very latest in gadgetry and games, and of course a classic sushi experience is a must. Slow down at the serene Meiji Shrine, the beautiful Shinjuku Gyoen National Garden, or take it all in from high above at the Tokyo City View, the 52nd floor observation deck at Mori Tower in Roppongi Hills.

In a quintessential story of old meets new, Tokyo is fast-paced, trendy and high tech, but is never very far away from its enchanting past.
Hakodate, Japan
 
Located on Hokkaido, the northernmost island in Japan, Hokadate sits under the vast 334m-high Mount Hakodate.

Hop on a tram that can take you from one end of the city to the other in just 45-minutes or enjoy a leisurely stroll through the area that takes you past historical buildings. Looking for a break and some soothing relaxation? The Yunokawa Onsen is a spa resort area offering up many hot spring hotel and inn options.

How about enjoying the company of wildlife while you relax? How about some snow monkeys? Within the Yunokawa Onsen area you'll find the Hakodate City Tropical Botanical Garden where about 100 free-range Japanese macaques (a.k.a. snow monkeys) have been known to warm up in the luxurious mineral water.

Meanwhile, it's easy to bring a little piece of Hakodate home thanks to the ample souvenir shopping locations. Then, once you've had your fill of the urban experience, a quick express train will take you to the suburbs of Onuma, a beautiful resort area full of mountains, lakes and forests, where you can soak up natural beauty.
Akita, Japan
 
Akita Prefecture is situated in the north-eastern part of the Japanese main land, east of the Sea of Japan, flowing rivers, and expanses of fertile farmland. Majestic mountain ranges, including the UNESCO World Heritage Site of the Shirakami – Sanchi Mountains, surround the northern, southern, and eastern sides and make for incredible views.

The city has a medieval past, but today it offers up a young, energetic spirit with its year-round festivals and street parades. There is also a prosperous art community, including several fine art museums and the Kakunodate Samurai District, showcasing the samurai way of life.

Shrines, temples, and stunning waterfalls are all close to the city and provide a wonderful escape. Akita will have you feeling at one with nature and is the perfect place to decompress.
Kanazawa, Japan
 
Tucked in between the Sea of Japan and the Japanese Alps, flanked by the Sai and Asano rivers, Kanazawa might be an unfamiliar destination, but it's sure to become an unexpected favorite. Translated literally Kanazawa means "marsh of gold," and the city produces approximately 98% of the gold leaf in Japan. Find a small jar to take home or try it sprinkled on ice cream. Gold aside, Kanazawa is also a jewel in Japan's historical crown. Founded in the late 1500s as a castle town, the city has been relatively untouched from the ravages of World War II and natural disasters. Once a powerful and strategic city for the Maeda clan, it is now a comparatively small city with a calm, comfortable feel.

Stroll over the small bridges of the Naga-machi Buke Yashiki (samurai district) or admire the charming tiled streets and weathered wooden buildings of the Higashi Chaya (geisha district.) Stop into a traditional tea house, tended by geisha, or any number of artisan shops, where you'll find fine handcrafted items such as wooden chopsticks.

Discover Tera-machi, Temple Town, where you'll find 70 temples grouped together. Visit the D.T. Suzuki Museum, a peaceful homage to Zen Buddhism, or the giant glass walls of the 21st Century Museum of Modern Art, shaped like a UFO. Be sure to sample the region's sake, known for it superior quality. Explore the small bustling alleys of the colorful Omichi Market, which dates back nearly 300 years, always overflowing with local vendors. Discover something new and interesting or savor the familiar delight of plenty of fresh seafood—crab, broiled scallop or eel, and oysters or sea urchins right from the shells. Sample fruit and ice cream, and linger over tea.
Sakaiminato, Japan
 
Sakaiminato's history is steeped in fishing tradition. Now the base of Western Japan's fishing industry, Sakaiminato has been an open trading port with the U.S. and U.K. since 1899. Today the port town continues to be a haven for seafood lovers with fish markets and world-class restaurants scattered along its streets, making it the perfect place for visitors to taste the catch of the day.

The fishing industry is so important to Sakaiminato that every July the city holds the Sakaiminato Port Festival, complete with parades and fireworks. And the festival opens with prayers for another successful fishing season.

Sakaiminato is more than just its abundant fishing industry, it's also the birth place of Shigeru Mizuki, the creator of GeGeGe no Kitaro, the manga stories that birthed so many of Japan's favorite comic characters. Take a walk down Shigeru Mizuki Road, a street lined with more than 150 statues of his Japanese characters. If you're a Manga fan, be sure to also visit the Shigeru Mizuki Memorial Museum to learn more about Mizuki and his creative characters.
Busan, South Korea
 
Busan's deep harbor and gentle tides have made it a desirable port, now fifth largest in the world. Get the big picture with a panoramic view of the city and surroundings from atop Busan Tower.

Koreans consider raw fish both a delicacy and an everyday meal, so for a look or a taste, head to the fish market, where the seafood is so fresh it's still swimming.

Cultural explorations include the 9th century Beomeosa Temple in town, or a trip to the ancient capital of Gyeongju, a "museum without walls", containing the ruins of temples, palaces, and pagodas of the 1000-year Silla Kingdom, which once ruled most of the Korean Peninsula.
Sasebo, Japan
 
Enjoy the relaxed atmosphere of Sasebo on Japan's island of Kyushu. Once a small fishing village, Sasebo has grown into the second largest city in the Nagasaki Prefecture with stunning views and unique, international flair.

Begin your visit at the Seishin Cathedral, a neo-Gothic church that has become a symbol for the city. Then, take a ferry to Kuro-shima Island, one of the 208 Kujūku islands that dot Japan's western coast. No visit to Sasebo is complete without a visit to Huis Ten Bosch. This amusement park tells the history of Japan's relationship with the Netherlands. A precise replica of a Dutch village in the Netherlands during the Middle Ages, Huis Ten Bosch boasts Dutch-style buildings and canals, international restaurants, and captivating museums where you can be transported to another place and time. Afterwards, make your way to the Yumiharidake Observatory for a stunning look at the city from above.
Kagoshima, Japan
 
The dominant image on Kagoshima's horizon is that of Sakurajima, the overactive volcano whose frequent dustings of ash bring out the umbrellas as if they were spring showers. The mountain also heats a number of geothermal springs, providing the unique opportunity to relax in a "sand bath" that will leave you feeling relaxed and energized.

For a rare taste of old Japan, visit Chiran and its street of seven meticulously preserved Samurai houses and their manicured gardens. These handsome residences exemplify Japanese aesthetic principles, which reflect simplicity, and a restrained and refined sense of beauty.
Kōchi, Japan
 
Kōchi is a city with a well-earned reputation for having a good time. Named after the castle that sits in the heart of the city, Kōchi delights visitors with its sightseeing, unique regional cuisine, and lively nightlife.

Begin your visit with a trip to Kōchi Castle, one of only 12 original castles still standing in Japan. Stroll the grounds and see the bronze statue of Yamanouchi Kazutouo, the largest equestrian statue in Japan. Then, make your way to the Obiyamachi shopping arcade, which is close to the Harimaya-bashi—a replica of a bridge featured in a well-known Japanese love song. Elsewhere, history buffs should make their way to the Sakamoto Ryōma museum to learn the story of Kōchi's beloved, favorite son.

If all this shopping and sightseeing works up your appetite, be sure to try Sawachi cuisine—a style of dish native to the region—including Kōchi's signature dish, katsuo no tataki (seared bonito). Wash it down with a shōchū with the locals, who are well known for their joie de vivre! Or, for a drink that's out of this world, try Tosa Space Sake, a specialty beverage prepared with yeast that was taken into space aboard a rocket in 2005.
Kobe, Japan
 
Famous for the beef that bears it name, Kobe is headquarters for numerous Japanese and international firms, and has long been an important port. It is also a short bullet train ride from Kyoto, ancient capital of Japan from the 8th to the 19th century.

Here vestiges of the past are easier to find than in many of Japan's modern, high-tech cities: countless temples and shrines, the palaces and castles of shoguns and emperors, and narrow lanes paved in stone and lined with wooden buildings housing shops and restaurants that have been serving travelers for centuries.
Shimizu, Japan
 
Mount Fuji, Japan's tallest peak, overlooks this beautiful port town at the Northern end of the Izu Peninsula. One of Japan's "Three Holy Mountains," Mount Fuji is a UNESCO World Heritage Site, a Special Place of Scenic Beauty, and is one of Japan's official Historic Sites. Shimizu's mild climate makes it perfect for exploring nature, like Miho-no-Matsubara, four miles of pine grove on the town's seashore.

Bustling with activity from the region's busy fisheries, the Port of Shimizu is a vibrant area full of commercial highlights you'll want to experience before diving into the natural beauty at the town's edges. Once you've ventured away from the town's lively port, you'll quickly understand why Shimizu, one of three wards in the city of Shizuoka, translates to Calm Hills.

A stroll through Miho-no-Matsubara will leave you not only refreshed and energized, but inspired. Home to more than 30,000 pine trees lining the seashore and a jaw-dropping view of Mount Fuji, it's no surprise this scenic area has been the subject of many paintings, poems, and legends throughout Japanese history.
On Board Inclusions
An AzAmazing EveningSM event (on most voyages)
Select standard spirits, and international selection of beers and wines throughout the voyage
Gratuities (dining, bar and housekeeping)
Shuttles to/from port communities, where available
Destination-influenced entertainment & enrichment
Bottled Water, Sodas and specialty Coffee & Teas
Concierge Service
Self-Service Laundry
All gourmet meals
Casino
Aqua Spa and Fitness center
Piano and Wine bar, and Live Entertainment
For Suite Guests
All standard amenities plus:
English butler service
235 complimentary Internet minutes
One free bag of laundry service per suite, each seven days
Complimentary dining in specialty restaurants
Afternoon tea service in suite
Guests in Club World Owner's and Club Ocean suites may choose a complimentary Insider AccessSM or Nights in Cool PlacesSM excursion
Pricing Details* (per person US$)
*Airfare not included in prices listed
| | | |
| --- | --- | --- |
|   | Interior | $5,522 |
|   | Balcony | $7,252 |
|   | Oceanview | $6,502 |
| |  Suite | $12,252 |
To Reserve your space
Send email to: winedivadeb@yahoo.com or call Wine Diva Deb on 206-617-6160.
A deposit of $1,100/cabin or $2,220/Suite is required.
All reservations based on double occupancy.  Travel Insurance highly recommended as well as Personal & Medical Insurance.
Azamara Club Cruises reserves the right to impose a fuel supplement on all guests if the price of West Texas Intermediate fuel exceeds US$65 per barrel.