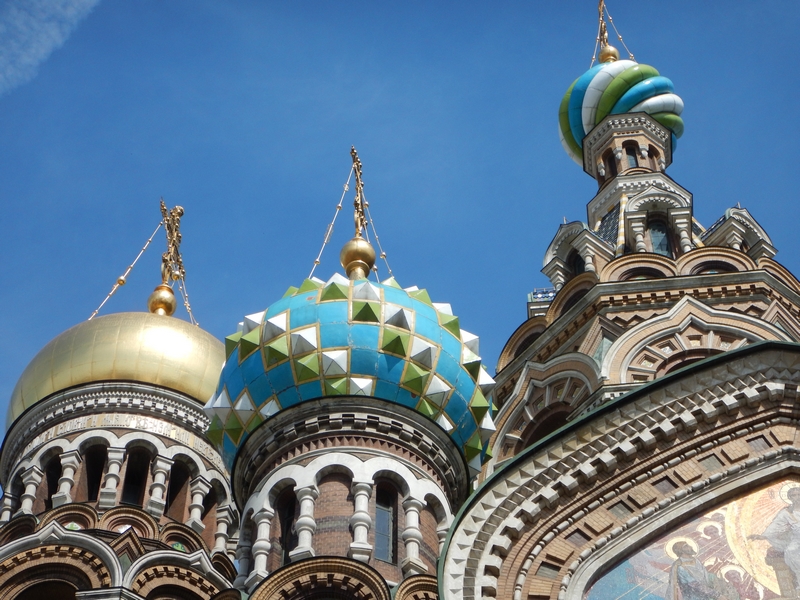 8  –  19 August 2018
Join Wine Diva Deb on the newly renovated Azamara Journey experiencing a romantic summer following the midnight sun to the Baltic and great ports of Germany and Poland. And why not make it an experience of a life time and do a back to back with the North Cape!
Copenhagen is a beautiful city, and bike-friendly. Arrive early and see it that way.  Then it's off to the German port of Warnemünde and let the romance begin.
Wander the Alter Storm boardwalk, climb to the top of the lighthouse, and visit the 13th-century town hall. Or take the train into Berlin and visit the Brandenburg Gate, designed as a triumphal arch for Kaiser Wilhelm II – you will feel just as glorious walking through it. A late stay means a visit to the Prater Garten, the oldest beer garden in the city. It survived the bombings of both world wars so it can handle a wild night.
Spending the night in Gdańsk gives time to study the history of Solidarity, visit the famous White Frigate at the National Maritime Museum and wander the Grand Hotel in Sopot where Hitler, Omar Sharif and Marlene Dietrich have gone before.
Next up, take a guided walk of Tallinn's Old Town, showcasing its rich history, including the great tradition of beer making. You may have to sample some.
In addition to romance, golf was promised. There are plans to play at the Estonian Golf and Country Club, created within an ancient archeological site, and at Bro Hof Slott, situated directly on stunning Lake Mälaren and designed by Robert Trent Jones, who made certain the wind is always part of the game here.
St. Petersburg is filled with experiences of all kinds, and two overnights mean you can have them all. Helsinki has the Esplanade and the largest ice bars in the world. Kippis!
The voyage concludes with an overnight in Stockholm.  Although knowing it's Stockholm, you may want to stay even longer.
Voyage Details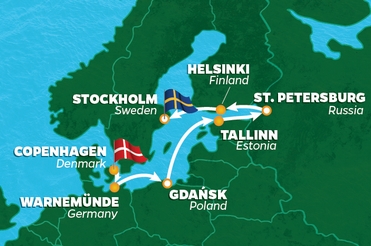 | | | | | |
| --- | --- | --- | --- | --- |
| Date | Port/City | Activity | Arrival | Depart |
| Wed 8 Aug | Copenhagen, Denmark | Embark | | 6:00pm |
| Thu 9 Aug | Warnemunde (Berlin), Germany | Docked | 7:00am | 11:00pm |
| Fri 10 Aug | Gdansk, Poland | Docked | 7:00pm | |
| Sat 11 Aug | Gdansk, Poland | Docked | | 10:00pm |
| Sun 12 Aug | At Sea | Cruising | | |
| Mon 13 Aug | Tallinn, Estonia | Docked |  7:00am |  6:00pm |
| Tue 14 Aug | St. Petersburg, Russia | Docked | 8:00am | |
| Wed 15 Aug | St. Petersburg, Russia | Docked | | |
| Thu 16 Aug | St. Petersburg, Russia | Docked | |  6:00pm |
| Fri 17 Aug | Helsinki, Finland | Docked |  8:00am |  5:00pm |
| Sat 18 Aug | Stockholm, Sweden | Docked | 9:30am | |
| Sun 19 Aug | Stockholm, Sweden | Debark | | |

Port Details
Copenhagen, Denmark
| | |
| --- | --- |
| | Copenhagen is known as a city of spires: the skyline of its medieval core is punctuated only by the steeples of churches and towers of palaces, though a modern building boom has overtaken other parts of the city. Today's Copenhagen is known for its excellent quality of life and environmental consciousness – with many parks, it is green both literally and in today's sense of the word. It is also bicycle-friendly, with bike paths lining almost every major street. After a ride or wander through the old town, stop for a local repast of Smørrebrød, traditional open-face sandwiches, or a mouthwatering Danish pastry. |
Warnemunde (Berlin), Germany
Warnemunde is a seaside resort neighboring the red brick 800-year-old Hanseatic city of Rostock.

From here it is possible to spend the day in Berlin, capital city of a reunited Germany.

Its historical core, home to important monuments like the Brandenburg Gate and the Reichstag building, is part of a revitalized city center, with cafes, restaurants, museums, and galleries. Layered over the Prussian past are WWII, recognized in a Memorial for the Murdered Jews of Europe; and Cold War relics, including a surviving section of the Berlin Wall and the infamous Checkpoint Charlie.
Gdansk (Gdynia), Poland
| | |
| --- | --- |
| | Gdańsk is a 1,000-year-old port city on the Baltic coast of Poland, which, together with the city of Gdynia and the town of Sopot, makes up the metropolitan area Trójmiasto, "the Tricity". Home to the Westerplatte, where World War II broke out in 1939, Gdańsk was mostly destroyed during the war, but there are still many impressive sights. Wander through cobblestone streets and mazes of red-brick buildings to discover the Upland Gate, St. Mary's Church, the medieval Gdańsk Crane or the stunning façade of the Great Arsenal. Explore treasures of "Baltic Gold" at the Amber Museum or collections of paintings, fabrics, and furniture at the National Museum, housed in a former Franciscan monastery. Relax at a beer garden or restaurant and take in the beautiful coastline. Make your way to Gdynia, home of the Polish navy, to feast on seafood or a visit to a floating museum in the form of two ships—Dar Pomorza and Blyskawica. |
Tallinn, Estonia
| | |
| --- | --- |
| | Despite occupation at one time or another by each of its near neighbors, Tallinn is independent-minded and has creative ways of showing it – consider the Singing Revolution of 1988, the massive musical demonstration against Soviet rule that set Estonia on the path to independence. Visit St Olav's Church, once the tallest building in the world, at least until 1625. Then pull up a chair at one of the cafés in the charming town square, heart of the city for 800 years. After your coffee, explore St. Catherine's Passage, a quaint old lane, home to a collection of craft workshops, and check out the secret 17th C. tunnel system. |
St. Petersburg, Russia
| | |
| --- | --- |
| | Tsar Peter the Great founded this magnificent city in 1703 as a window to the West, a launching pad for his attempt to modernize Russia and open up to outside influences. The architecture is varied and striking, with golden domed churches, and an astounding number of large and extravagantly decorated palaces, consistently evoking wows from visitors. The grandest include the countryside Peterhof, with its lavish gardens and majestic golden fountains cascading down to the Gulf of Finland; and the Winter Palace, within the complex of the Hermitage, one of the world's largest museums, with a collection of some three million works of art and artifacts. |
Helsinki, Finland
| | |
| --- | --- |
| | Helsinki is a successful blend of traditional and modern architecture and design, interwoven with the beauty of nature, and a few quirky, purely Finnish touches – such as a church built inside a giant chunk of granite, and a venue that is a unique combination of café, restaurant, bar, laundromat, and sauna. Classic Russian onion-domed churches share the stage with Nordic minimalism, and a large concentration of Art Nouveau buildings. Prominent globally in the fields of technology (think Nokia) and design (Marimekko and Aero), Finland has also recently topped the charts as having the world's best educational system. |
Stockholm, Sweden
| | |
| --- | --- |
| | Lively, cosmopolitan Stockholm sports an appealing mix of modern Scandinavian architecture and fairy tale palaces, watched over by a Board of Beauty, responsible for preserving the city. One third of its area is devoted to green space, and another third to waterways, providing lots of room to breathe. Gamla Stan is the oldest section, retaining the medieval layout of narrow meandering paths. For the contemporary take there's Sodermalm, known trendily as SoFo, with welcoming restaurants and pubs, specialty shops and boutiques. Stieg Larson fans hang out here, as it is the area of the city where most action in the Millennium novels takes place. |
On Board Inclusions
An AzAmazing EveningSM event (on most voyages)
Select standard spirits, and international selection of beers and wines throughout the voyage
Gratuities (dining, bar and housekeeping)
Shuttles to/from port communities, where available
Destination-influenced entertainment & enrichment
Bottled Water, Sodas and specialty Coffee & Teas
Concierge Service
Self-Service Laundry
All gourmet meals
Casino
Aqua Spa and Fitness center
Piano and Wine bar, and Live Entertainment
For Suite Guests
All standard amenities plus:
English butler service
235 complimentary Internet minutes
One free bag of laundry service per suite, each seven days
Complimentary dining in specialty restaurants
Afternoon tea service in suite
Guests in Club World Owner's and Club Ocean suites may choose a complimentary Insider AccessSM or Nights in Cool PlacesSM excursion
Pricing Details* (per person US$)
*Airfare not included in prices listed
| | | |
| --- | --- | --- |
| | Balcony Cabin | $5,857 |
| | Window Cabin | $5,056 |
| | Inside Cabin | $4,257 |
| |  Suite | $7,557 |
To Reserve your space
Send email to: winedivadeb@yahoo.com or call Wine Diva Deb on 206-617-6160.
A deposit of $1,100/cabin or $2,220/Suite is required.
All reservations based on double occupancy.  Travel Insurance highly recommended as well as Personal & Medical Insurance.
Azamara Club Cruises reserves the right to impose a fuel supplement on all guests if the price of West Texas Intermediate fuel exceeds US$65 per barrel.